Shinkansen (新幹線)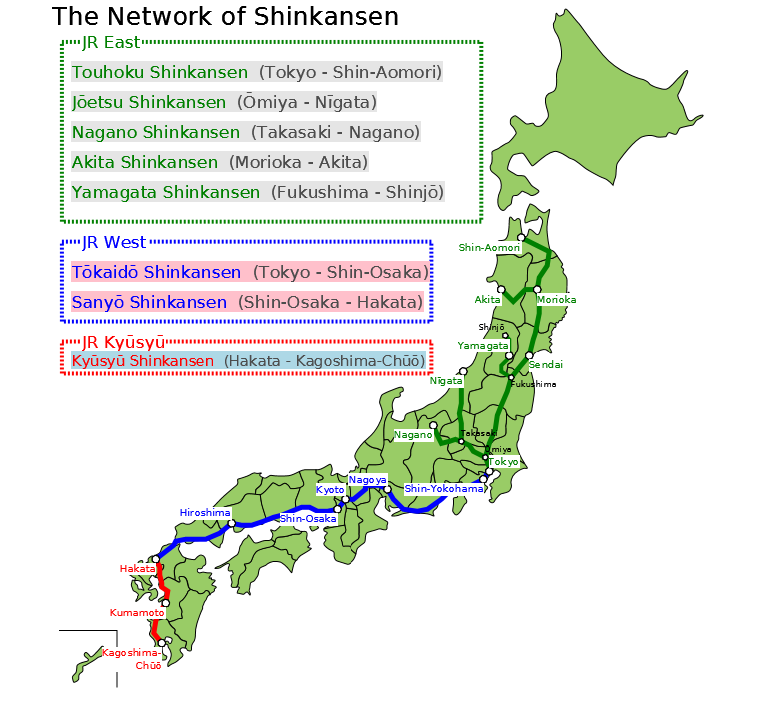 Shinkansen (新幹線) is Japanese high speed train service. The maximum speed is 320 km/h (Shinkansen Nozomi), and you can move between Tokyo and Osaka within 160 minutes by Shinkansen. The strong points of Shinkansen are not only its speed but comfort, punctuality, and number of times the Shinkansen is operated. You don't feel the noise and vibration that Shinkansen causes while getting on Shinkansen. Also, in important stations such as Tokto station, many Shinkansens depart and arrive every 3-5 minutes, and the average deray is only 36 seconds.
Comparing airplanes, if you use Shinkansen, you don't need to go to airport and can visit tourist spots directly, so overall, Shinkansen is a better way of traveling Japan fast than airplanes. Also, the network of Shinkansen covers all over Japan, and you can go everywhere in Japan by Shinkansen. Moreover, except particular cases, the cost of Shinkansen is cheaper than that of airplanes, also you can use
Japan Rail Pass
for some Shinkansen.
Each Shinkansen have itself name, and it shows the stop stations and the destination. In case of Tokaido Shinkansen (東海道新幹線), 3 types of Shinkansen run; Nozomi (のぞみ), Hikari (ひかり), and Kodama (こだま). The number of stop station for Nozomi is the smallest, followed in order by Hikari, and Kodama. Also, in case of Tohoku Shinkansen (東北新幹線), there are 5 different destinations. The name of Shinkansen shows where the Shinkansen go to.
Deteiled Shinkansen maps:
Toukaidou Shinkansen (東海道新幹線)
Sanyou Shinkansen (山陽新幹線)
Touhoku Shinkansen (東北新幹線) & Akita Shinkansen (秋田新幹線) & Yamagata Shinkansen (山形新幹線)
Nagano Shinkansen (長野新幹線)
Joetsu Shinkansen (上越新幹線)
Kyusyu Shinkansen (九州新幹線)
How to Use Shinkansen
How to Buy Shinkansen Tickets and Make Seat Reservations
When you buy Shinkansen tickets, following information is needed.
If you reserve seat
Name of Shinkansen that you use
Departure station
Destination station
Date and time of departure
Class of seats
(No.5 and 6 is needed for only persons who want reserved seats)
The difference between reserved seats (shiteiseki, 指定席) and non-reserved seats (jiyūseki, 自由席) is if you can secure your seat. The reserved seat users can secure their seats by paying reservation charge (320-720 yen). In contrast, there is a possibility that non-reserved seats users cannot take any seats. Non-reserved seats users must get on non-reserved cars (each Shinkansen includes 3-5 non-reserved cars), and if they cannot find any eampty seats, they must continue standing.
There are 3 ways of buying Shinkansen tickets and making seat reservations; (1) through Midori-no-Madoguchi (みどりの窓口), (2) use ticket‐vending machine, and (3) buy on the Internet.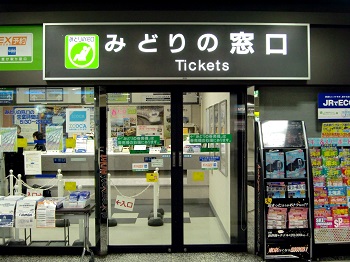 (1) Midori-no-Madoguchi is official tickets office and located at almost all major stations. You can get all types of Shinkansen tickets and seat reservations in the office even if the station where the office exist in is not your departure or destination station. If you cannot speak and understand Japanese, please use
this form
. Please fulfil the form and show it the staff. Then, the staff understand the ticket what you want and issue it.
Photo is taken by Kirakirameister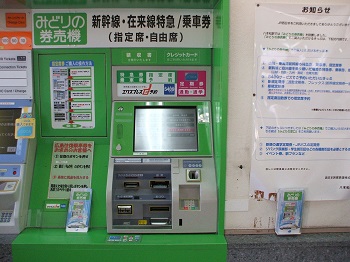 (2) Ticket‐vending machines dealing with Shinkansen tickets are installed at some important stations such as stations Shinkansen stops. These machine have English menue, so you can get Shinkansen tickets and seat reservation easily by following its instructions.
Photo is taken by Inaji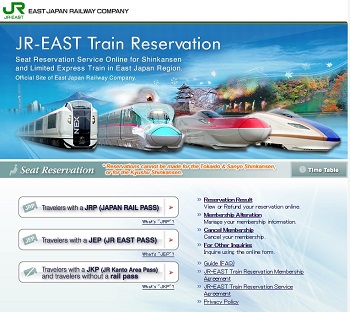 (3) JR East offers English online tickets reservation service. You can buy and reserve tickets of Tohoku, Akita, Yamagata, Jyoetsu, and Nagano Shinkansen from
here
.
In order to use Nozomi and Komachi, you need to buy Shinkansen tickets even if you have a
Japan Rail Pass
. Also, if you want to use Hayabusa, Hayate, and Komachi, you need to make seat reservations because these Shinkansen don't include any non-reserved seats.
About Class of Seats
JR offers seats in 3 classes; (1) Ordinary Car (普通車), (2) Green Car (グリーン車), (3) Gran Class (グランクラス).
(1) Ordinary Car is what is called economy class seats of airplane, and you don't need pay any additional cost to use this seats. This is the cheapest seats in reserved seats, but the size of the seats is enough for people to relax, and you won't feel uncomfortable.
(2) Green Car is what is called buisiness class seats of airplanes, and you need to pay Green Car charge (the price is depend on length of move) to use it. The size of the seats is bigger than that of ordinary seats, and almost all seats includes a footrest and an electrical outlet. Also, Green Cars tend to be less crowded than Ordinaly Cars.
(3) Glan Class is what is called first class seats of airplanes, and you need to pay a Gran Class charge (the price is depend on length of move) to use it. Only Hayabusa, Hayate, Yamabiko, Nasuno, and Asama include Gran class cars, and a special boxed lunch and a free drink service are offered for the passengers of Glan class of Hayabusa, Hayate, and Yamabiko.
How to Get on Shinkansen
Before getting on Shinkansen, please check tickets your tickets.
Do you have one basic fare ticket (the ticket printed "乗車券") and one limited express ticket (the ticket printed "特急券")? (in some case, you need only one ticket printed "乗車券" and "特急券".)
| | |
| --- | --- |
| | |
| (A)Basic fare ticket (Jōsyaken, 乗車券) | (B)Limited express ticket (Tokkyūken, 特急券) |
Images are quoted from here.
In order to ride Shinkansen, you need to (1) pass through Shinkansen ticket gates, (2) find and go to a platform that Shinkansen you use depart from, and (3) get on Shinkansen and find your car and seat
(1) Pass The Shinkansen Ticket Gates
The stations where Shinkansen arrive and depart from includes two kinds of platforms; one is for usual trains, and the other is for Shinkansen. Then, Shinkansen platforms are located inside Shinkansen ticket gates, and the Shinkansen ticket gates are located inside usual ticket gates. Firstly, please pass through usual ticket gates by insert only your base fare ticket into them. After that, find Shinkansen ticket gates (signs leads you there), and pass it by insert not only base fare ticket but limited express ticket at the same time. Beside, at some large stations, there are special ticket gates that enable users to go to Shinkansen platforms directly by passing through only. In the case, please insert both ticket into them. Also, if you use your
Japan Rail Pass
, please show it the staff by both gates.
(2)Find and Go to Shinkansen Platform

After passing through Shinkansen ticket gates, you will see LED display. This displays tell you which platforms your Shinkansen depart from.
(3)Get on Shinkansen and Find Your Car and Seat.
| | |
| --- | --- |
| | If you make seat reservations, you need to find your car and seat. The car and seat No. are written on your limited express ticket. Also, signs on the platform and the body of cars indicate its car No.. The order of seats is same to that of airplanes.<br> If you don't reserved, you have to ride non-reserved cars. Non-reserved car No. are indicated on the right side of the LED display. If the display show "Non-Reserved Car No.1-3", you cannot ride the others. |
If you miss reserved Shinkansen, your reservation cancelled. The refind is not accepted, but you can use non-reserved seats of other Shinkansen (you cannot use other types of Shinkansen) in the day.
After Getting on Shinkansen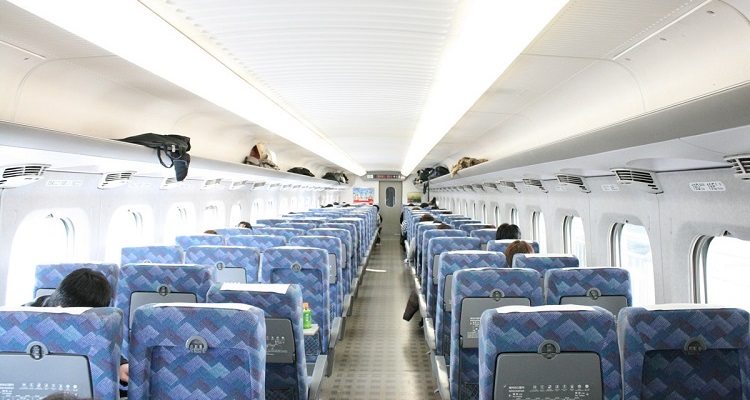 The Inside of Shinkansen
After getting on Shinkansen, please wait for the staff to inspect your tickets. The staff visits passengers and inspect their tickets in order after Shinkansen departs. If your turn comes, please show your tickets or
Japan Rail Pass
them. The inspection is carried out within about 10 minute. Therefore, please don't sleep or leave your seat as soon as Shinkansen departs and wait for them to come.